Scottish Rite Valley of Raleigh , NC
We are located at 1520 Caswell St, near the intersection of Wade Ave & Glenwood Ave.
Our stated meetings are held on the 2nd Thursday of every month at 7:30 PM. We have a meal before each meeting at 6:30 PM. All Scottish Rite Brethren are invited to attend our meals and stated meetings.
A RiteCare® Telemedicine clinic will open March 28th in Hyde County, N.C.
With all of the focus on improving healthcare, Scottish Rite Masons in North Carolina are stepping up to the latest technology in the medical environment. A RiteCare® Telemedicine clinic will open March 28th in Hyde County, N.C. The Hyde County Health Department will begin offering speech evaluations for children up to 12 years old with suspected speech sound disorders. Patients will be considered for telemedicine evaluations on a case-by-case basis. A qualified speech-language pathologist from the East Carolina University Speech-Language and Hearing Clinic will provide the evaluation services.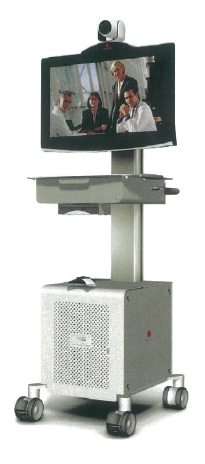 The clinic is supported by a grant from the N.C. Office of Rural Health and Community Care, the Kate B. Reynolds Charitable Trust, and the Scottish Rite of North Carolina. Telemedicine will allow children to be evaluated through the use of computer technology and interactive cameras that allow real time communications to occur between patient and pathologist. The photo shows a version of this technology.
The Grand Opening will be March 28. For further information, please contact: Hyde County Health Department, 1151 Main Street, Swan Quarter, NC 27885, or call 252-926-4399. The clinics hours are Monday through Friday from 8:00 am to 5:00 pm.
.....
For those that would like to attend, there is a ferry that leaves Swan Quarter at 4:30 PM for Ocracoke Island the afternoon of 3/28/14. Ferry Schedule >>.
The pirate Black Beard was killed at Ocroake Island and they have located his sunken ship, The Queens Revenge, and are in the process of collecting artifacts from it.
Also, there are lots of nice B & B's as well as motels on Ocracoke Island. Visit the Official Travel & Tourism Site for Ocracoke, North Carolina. Ocracoke Island is part of Hyde County where our new speech therapy clinic will be located.
---
Previous Articles